(877) 505-4062 (U.S. Toll Free)

The Cliff House Blog

A Parade of...Coffins?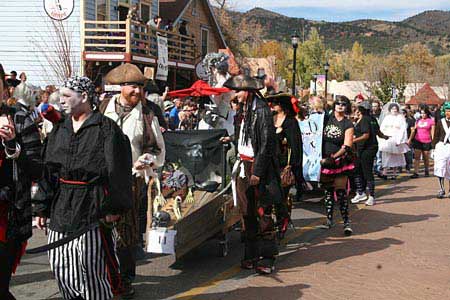 01 Oct, 2014
Halloween is upon us, inspiring a look back at the history of one of Manitou Springs' most offbeat spectacles. It's the Emma Crawford Coffin Race & Parade, an annual event honoring the late Emma Crawford, who in 1889 was diagnosed with tuberculosis and moved here seeking the healing powers of the mineral springs. Sadly, she lost her battle to the disease in 1891 but, to satisfy her dying wish, her fiancé and eleven other men carried her body to the top of Red Mountain, where she was laid to rest. In 1929, after unusually high amounts of rain, her casket washed down the 7,200 foot slope and, while only a few bones, the casket's name plate and handles were found, legend has it that her ghost still haunts her beloved Red Mountain. To commemorate her casket's demise, thousands of locals and guests of Manitou Springs hotels will line the town's streets on October 25 for the annual parade of coffins and antiques horses at noon, followed by the race of 50 coffin teams down Manitou Avenue. This internationally known event is celebrating its 20th anniversary. Needless to say, it's a fun spectacle and a fantastic way to celebrate Halloween.