Deck the Halls with Savings!
(877) 505-4062 (U.S. Toll Free)

The Cliff House Blog

WILDLIFE & WILD FLOWERS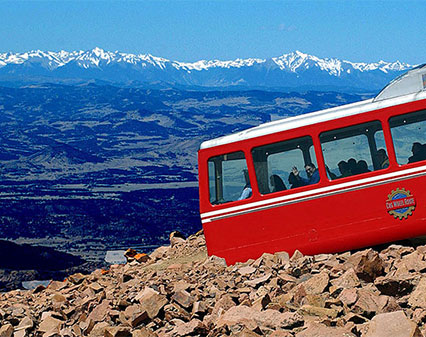 01 May, 2014
As we slip into summer, we can't help thinking about the season's colorful wildflowers and those playful yellow-bellied marmots sprawled out on rocks soaking up the sun mid-way up Pikes Peak. You can catch them in their sunny splendor when you climb aboard the Cog Railway, the historic, fire engine-red cog railway that has been taking passengers from Manitou Springs to the summit of Pikes Peak for more than a century. First, a few facts: this is the highest cog railroad in the world and the highest altitude train in the U.S. The 8.9-mile trip lasts just over three hours and rewards passengers with views that are nothing short of spectacular. You'll also see deer, elk, mountain lions and one of the state's largest herds of Rocky Mountain Bighorn Sheep. On a clear day, you can even see five states. A few helpful tips: Dress warmly; it can be many degrees cooler 14,115 feet up. Drink plenty of water before climbing aboard and don't be alarmed if you feel a bit wheezy at the top. Prepare to be wowed - these stunning views inspired the lyrics to "America the Beautiful."